Launch Trailer for "Kokoro Connect" Anime Streamed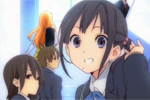 Earlier today, Enterbrain posted the launch trailer for a recently-announced anime, Kokoro Connect. Kokoro Connect was originally a light novel written by Anda Sadanatsu with illustrations by Yukiko Horiguchi (character designer for Lucky Star and K-On!), which has also enjoyed manga and drama CD spinoffs.
The story revolves around a quirky "Cultural Research Society" whose members' noisy but everyday lives were turned upside-down when they switch personalities. And while they try to figure out what happened and how to reverse it, they must act like someone else in order to avoid being found out!
Although viewers will likely have flashbacks to K-On! due to the similarity in character designs, it's only because the character designer was the same for both series -- the story itself is unrelated to that of K-On!'s. The concept of switching bodies or personalities is always an interesting plot device, and if they do a quality interpretation of the light novels, this series ought to be one to keep an eye on.
The trailer and detailed series info can be found at their official page, and the trailer is embedded after the break.
Kokoro Connect anime website: http://www.enterbrain.co.jp/fb/pc/02sp/02_1111kokoro/index.html