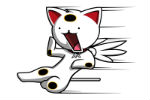 In an interesting twist, a hacker had apparently broke into new comer anime convention, AM2 site over the weekend and fabricated a false message stating the convention had been cancelled and that the musical guests would be performing at Anime Expo.
We have contacted AM2 in regards to the possible compromise of account information, and Chase Wang, who is an organizer for the event, has reassured us that no data was lost or breached.
Wang also had commented earlier this morning, "I am extremely disappointed that there are individuals out there that are so willing to stoop to such levels to disrupt and harm our event after all the work and planning that has been done to bring as much fun to our attendees as possible."
AM2 will be hosted from July 1 to 3 at the Anaheim Convention Center on the same weekend as North America's largest anime convention, Anime Expo. There is clearly a rivalry between these two conventions...
The original falsified post:
"We at AM2 Convention are sorry to inform you that we have been forced to cancel our convention for the 2011 year due to lack of funding stemming from losses in exhibitor and passport sales. We are really sorry for the inconvenience. However, do not worry! We have worked out contracts with ALL the guests of honor that all of the guests including SCANDAL, Wakeshima Kanon, and Sadie Heidi will be performing at the NOKIA Theater in Anime Expo 2011 at the Los Angeles Convention Center. Please visit http://www.anime-expo.org and register for your passes today. AM2 convention will be refunding all of your passes in the next few days. We are REALLY SORRY for this inconvenience, but see this as a new opportunity for attendees to visit Anime Expo. Chase Wang says "We are sorry for what has happened, but we are really glad that attendees will be able to see a new line of amazing guests at the Anime Expo 2011. We are working together with CEO Marc Perez to make this an exciting event." We look forward to seeing you all at the Los Angeles Convention Center July 1-4!"