(UPDATED) K-ON! Seiyuus @ Anime Expo 2011?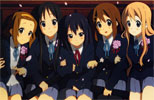 We've been hearing chatter within the industry lines for the past few months that Japanese voice actresses for a popular anime series about a high school girl band may be making an appearance at this year's Anime Expo, North America's largest anime convention.
Further speculation has flared recently when Bandai Entertainment, the American license holder of the series, posted this on their official Twitter page last week:

This posts suggests that there will be some type of performance from the K-ON! series at Anime Expo, though it could be very well just the American voice acting cast.
With only 2 weeks away, and a rather sparse guest list for their twentieth anniversary, we should be hearing the exact details soon. In the meantime, feel free to take guesses in the comments.
UPDATE: Bandai has confirmed on their official Facebook page that the English voice cast will be present at Anime Expo performing at their booth.
"SATURDAY JULY 2
2:00 - 3:30pm @ Bandai/Aniplex Booth 901 > K-ON! Musical event and Autograph session with Stephanie Sheh, Cristina Vee, Cassandra Lee Morris, Shelby Lindley, and Christine Marie Cabanas"