[SkyTube] Date Wingfield Reiko (Fault!!)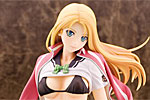 Figure maker SkyTube will be releasing a figure of Date Wingfield Reiko from the ero game Fault!! Tony Taka fans will instantly recognize his trademark style in the figure. Apart from the eye candy, this figure's jersey, uniform, and bikini top are completely castoffable.
This looks to be a solid figure and will be released later this year in October. For more photos check out the mini gallery inside (note NSFW).
As a note, SkyTube is an offshoot of figure maker AlphaMax and produces mature figurines similar to Max Factory's Native figure line.