(GDC '11) New Game by Minecraft Creators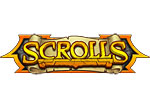 Mojang AB's secret project, known as "not yet announced game" until now, have kept Minecraft fans and other gamers wondering for months. In an interview with The-O Network Online, Jakob Porser, the lead developer of the project, unveiled its elusive identity: Scrolls.
Scrolls is an amalgam of Trading Card Games (TCG) and board games. In this game, the player would use his cards to summon minions to defeat the opponent. For players who want a stronger edge, they may purchase new cards for use in the game.
Unlike other online TCGs such as Fantasy Masters Online that merely port an offline medium of playing cards to cyber space, Scrolls has spatial strategic elements as well. In addition to choosing the right types of minions (cards/decks in TCGs), the player also needs to strategically position the minions on the map to gain advantage over the opponent. Another distinguishing characteristic is the presence of the single player mode. If the player is not comfortable with playing against another person, then he or she may choose to fight against AI opponents in single player mode.
While the official release date is not yet set, the alpha version of Scrolls is expected to arrive within this year.
Official website:
http://www.scrolls.com/