Speed Racer Movie Bombs in Box Office. Lesson to be learned?
Published in
Written by Jason Vien
Parent Category: News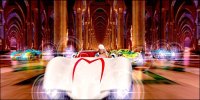 Speed Racer, the live-action adaptation of the classic pseudo-anime helmed by the Wachowski bros, closed it's weekend opening at a heartbreaking $20 million. In retrospect, it probably wasn't a great idea to attempt a coup against the juggernaut that is Iron Man just a week after that films' bow. Iron Man, in comparison, took in $50 million this weekend and succeeded in dominating the box office two weeks in a row (and sitting pretty at $150+ million domestically). Warner Brothers' $180 million nostalgia trip looks to be in trouble, especially when you consider the list of summer big-hitters releasing in mere weeks (*cough* Indiana Jones). While no one anticipated Speed Racer to overtake Iron Man, experts still estimated at least a $40 mil take in, so the results are made even more painful. So what is the reason behind the flop? Poor marketing? Crap reviews? Recession? Or maybe it's because live-action adaptations of old cartoons just don't work (Scooby Doo, Underdog, etc.). Who knows.
If you still have an urge to watch Speed Racer, check out the first 7 minutes here before plopping down your hard earned green-backs.