Itasha Car Spotted @ AX08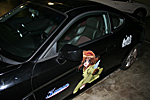 Was digging around our Anime Expo 2008 pictures, and I almost forgot we spotted an Itasha car (a car usually covered with anime related decals) in the garage of the Los Angeles Convention Center. Anyone else spotted any more Itashas at AX?
A few more shots after the jump.