FanimeCon 2011 Special Auction
Published in
Written by Theodore Mak
Parent Category: Conventions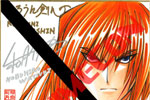 On the last day of this year's FanimeCon, a special charity auction was held by one of the guests, Mamoru Yokota. Nineteen amazing colored sketch and autographs done by popular artists were up for auction including Rui Araizumi (Slayers mangaka [manga writer/creator]), Nobuhiro Watsuki (Rurouni Kenshin mangaka), Tamiki Wakaki (The World God Only Knows mangaka), and Akio Watanabe (Bakemonogatari Character Designer).
The grand total for the auctions came out to $38,800, with proceeds going towards the relief efforts in Japan. No organization was specified as the recipient for the money; however, it was stated that Yokota-san and his colleagues would be distributing food to areas affected with the auction money.
Interestingly, Warsuki's sketch of Kenshin netted $15,000 alone.
We have included the sketch images, descriptions, and final prices courtesy of FanimeCon.