Benjamin Chu
Eri Kitamura Panel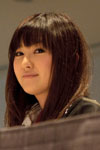 This year at Anime Expo 2010, voice actor Eri Kitamura came over to Los Angeles, California as a Guest of Honor, marking this anime convention her first event overseas. Her focus panel was on July 2, 2010 from 12:30pm to 1:30pm in the LACC Petree Hall. Kitamura is a 22 year old voice actor in Japan. She is known for her works as Saya Otonashi from Blood+, Rin Kokonoe from Kodomo no Jikan, Yui from Angel Beats! and Ami Kawashima from Toradora!.
The focus panel started out with a brief introduction of the guests on the panel. With Kitamura was one of the producers for Toradora!, Takahiro Yamanaka.
After the introduction, she requested everyone in the room to chant "Kita-Eri Kita!" with her, as she said such an opportunity would not be possible in Japan. With full energy, the crowd pulled it off in sync with her. Kitamura then explained that she had been a fan of anime, manga, cosplay and games since she was little and that she was very happy to have finally gotten to her current position in life, where she can meet her fans and do a job she likes.
Immediately following, they rolled a promotion clip of Toradora!, advertising and displaying information as to when Toradora! would be released and what items would be included in the premium edition. As the video ended, the NIS America representatives came on stage to read the user submitted questions. At the NIS America booth, attendees submitted their questions to Kitamura or Yui Horie. If you got lucky, the NIS America staff would ask your question at the panel.
Below is a transcription of the selected questions from the NIS America staff.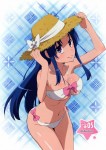 What do you like about your character Ami, in Toradora!?
Kitamura: Well first of all, I want to say that I fell in love with the character design the moment I saw her and that is where it began. As I started to learn more about her character and her personality, I found that she is a perfectionist but she still has a soft and weak side at the same time, I can really relate to that.
In your role as Ami Kawashima in Toradora!, did you ever find yourself sympathizing with the character and was there anything in particular that you liked about her?
Kitamura: She seems perfect on the outside and she is a hard worker in the shadows. She is always doing everything from behind the scenes, pulling the strings. She is really cool and looked up to by many people, but at the same time, she really cares about them, so she really just throws herself into a bad position, but she voluntary does it. That is one part that I like about her.
What personality trait do you share with your character in Toradora!?
Kitamura: Well, possibly, I try to act too tough on the front, with that I can't really express what I want to say in the right way. I might end up using tough words to give people the cold shoulder.
Based on all the roles you've done, what type of character do you enjoy acting as? For example, Kawashima-type or Kokonoe-type.
Kitamura: Ami Kawashima type would be number one, by far.
What type of character have you yet to play and you want to play?
Kitamura: I've done a lot of tsundere and cool-dere characters, but yandere - I've yet to attempt that one. I always seem to get the roles of the tough girls, it might be nice to play the role of a weaker...sick girl. I'll try to talk to the clients in Japan. I'll see what I can do.
What was your favorite episode in Toradora! and why?
Kitamura: The episode that left the biggest impression for me was episode five, when Ami-chan appears for the first time, especially the way she expresses her two types of personalities. Even when I was watching it myself, I thought in my mind, "Wow! What a bitch!" But still...she is a good girl. As the series progress, you can see the development in her personality where she lies intentionally to save her friends; I like all those moments where you can tell it hurts her to say something, but she does it for the greater good.
From here on out, the rest of the panel became a Q&A session with Kitamura. A microphone was set up in the middle of the room for people to line up and ask questions. Throughout most of the Q&A session, about half of the people requested voice lines from her other works.
She performed voice requests from the following characters:
- Juri from Super Street Fighter 4
- Shiranui Akeno from Seto no Hanayome
- Yui from Angel Beats! - "Yui-nyan", "Sensei! Toilet!", "Koraa!", and finally the part where she chokes herself with a microphone cable.
- Sunao Moriyama from Potemayo
- Kokonoe Rin from Kodomo no Jikan
- Miki Aono/Cure Berry from Fresh Pretty Cute
Was it hard to perform a character like Juri, whom you don't perform too often?
Kitamura: She was actually one of the easier characters I did. I can't go into too much detail, though. Let's just say that a lot of the lines she said, I have recollection of saying so myself.
Have you ever auditioned as another character of a show you've participated in?
Kitamura: It depends on the series. But in the case of Toradora!, I got Ami right off the bat, so I was really grateful. Since I've done such a variety of personalities in the past, when I audition, they just tell me to give them a range of stereotypical girl type voices. In the case of Angel Beats!, I auditioned for all three parts, but you don't always win. Even if I fail, it's just motivation for me to go on.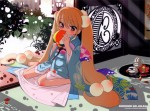 What is it like playing a character like Kokonoe Rin? One where you're underage and hitting on your teacher.
Kitamura: I think that's the first time I've ever had the voice of a girl so young, so it took some adjustment. It took a lot of practice to say "sensei" the right way.
Now that you're a professional seiyuu, when you watch anime, do you see it as part of the anime or see it as your coworkers speaking instead?
Kitamura: A lot of times when I go in for my role, I meet many experienced voice actors. And when I do, all I see is the character. That's about how much I've been influenced by anime.
How did it feel to play as Yui, especially when she passed away?
Kitamura: It was really sad…she's a really bright and outgoing character, but there will be scenes where you will see the stern and determined part inside of her. So I ask you to go watch this series and envision how I must've been feeling when I acted those parts.
Did you cry when she died?
KItamura: No comment.
What's the favorite character you've voice acted so far and why?
Kitamura: It's really hard to compare. There are so many different characters and different stories.
Yui had several last wishes. What kind of last wishes would you want fulfilled?
Kitamura: Well, first of all, I'd love to get more work and become rich. And I'd really want the world to scream out, "KITAERI KITA!"
Can you notice any familiarities between your previous works and American movies?
Kitamura: When I watch an anime, I really focus on the characters and how they look. So I don't really look at these other aspects. There are times when people point out things and I somewhat agree, but that's not really for me.
How do you feel, knowing that you voiced the legendary Yatterman in Tatsunoko vs Capcom? If you had the opportunity to voice him in a reboot, would you do it?
Kitamura: If there are any offers, I'd love to do it. But as you may know, Yatterman has a long history of voice actors and I'd be honored to have my name on that list. I'm not that good at fighting games, though…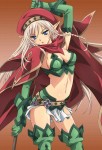 Queen's Blade has some suggestive scenes, does it make it harder for you, as a seiyuu, to perform them?
Kitamura: Well, when I'm actually recording these things on the mic, I don't think about how sexy or sensual it'd be. I just try to understand how the character is feeling at the moment. But I do think, "Wow, those are HUGE breasts!"
The panel ended with a final quick words from Takahiro Yamanaka and Eri Kitamura.
Yamanaka: Hello, everybody. I'm the producer of Toradora! from Dream Records. I didn't really get a lot of attention, so I thought it was about time…I'm here to represent Toradora!, but I'm amazed at how you guys knew about these other series as well. You guys can find this awesome Toradora! package at the NIS booth.
Kitamura: I want everyone to just scream, "I'll buy it! I'll buy it right here!" Please, think of Minori here!
Kitamura: Thank you very much for inviting me to this amazing convention. This is the first time I've been to an overseas event, and I'm really glad this is the first one. Recording voices in Japan, you don't really get to hear the voices and appreciation of fans around the world. So it was a really good experience for me today to see you guys. I want to take all the energy in this room, take it back to Japan, and fuel projects in the future.
[Images copyrighted: Takemiya Yuyuko / ASCII Media Works / Toradora Product Committee
Kaworu Watashiya / Futabasha

Hobby Japan / Queen's Blade Partners]