Reki Kawahara (川原 礫) Brief Biography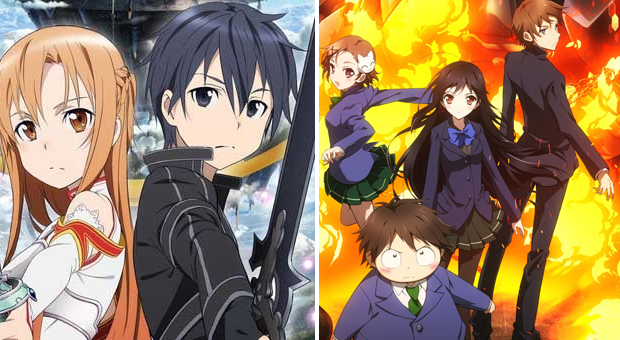 The-O Network's resident staff writer Ken dives into the life, the inspiration and the man behind two of 2012's hit anime sensations Sword Art Online and Accel World, Reki Kawahara. Please note, most of this information was gathered before Sakura-Con 2013.
---
BIOGRAPHY
EARLY LIFE
Reki Kawahara was born in 1974 in the Gunma Prefecture. Kawahara has two younger sisters, one 2 years younger, another 4 years younger. During his college years, Reki Kawahara was in the Manga Studies Club. He drew manga and illustrations during his time there. Kawahara would often head to the arcade with his fellow members to play fighting games [1]. He also started playing online games in 1998, starting with Ultima Online. Kawahara also played Ragnarok Online, his most played game (although he stated World of Warcraft during Sakura-Con 2013), and Phantasy Star Online [2]. Kawahara tried to draw manga but the work became too tedious as manga required too many things to do before getting his idea on paper. He claimed that he enjoyed coming up with stories instead of dealing with the fiasco in its entirety. Therefore, he started to take up writing [1].
WRITER
In Fall of 2001, Kawahara decided to apply for the 9th Dengeki Game Novel Grand Prix (Dengeki Game Shousetsu Taishou) [4]. He had no prior writing experience and only read other works. Kawahara finished Sword Art Online (SAO) in 2002, but he was turned down because it exceeded the page limit by 120 pages. Dengeki Bunko strictly forbids bending its rules. Kawahara didn't have the skills or will to trim it down, so he gave up at that point [2].
However, because of his lingering attachment to his work, Kawahara decided to post it up on his own website. "Kunori Fumio" is the pen name that Kawahara used when he wrote the web novel Sword Art Online. His work was well received by his viewers which became his motivation to write further including a sequel. Sword Art Online inspiration came from online games. He felt it would be more natural to write about net games.
In 2008, Kawahara decided to write again for the Dengeki Light Novel Award with Kyouzetsu Kasoku Burst Linker. He reapplied because he was inspired by all the works he read from Media Works Inc., such as Tokyo Shadow and Those who Hunt Elves. Although he was required to trim his work again, he was able to meet Dengeki Bunko's requirements [4].Kawahara was successful in winning the magazine's Top Prize, the award goes from Top Prize, Gold, Sliver, and then Bronze, and debuted as a writer at the age of 34.
The title was changed to Accel World because people commented the title sounded stupid and lame [2]. The concept for "Accel World" came from fighting games. He thought it would be neat if people could turn the world into a fighting game just by thinking while in the middle of the street. However, it would be too dangerous to be spacing out in the real world, so he made the brain burst setting [4].
Right after his publication, his editor, Kazuma Miki, read Sword Art Online from Kawahara's website and decided to get it novelized [2]. Miki is known for working on several popular works. He was in charge of numerous writers who have had their works animated.
- Kamazu Mamachi - To Aru Majutsu no Index
- Tsukasa Fushimi - OreImo
- Yashichirou Takahashi - Shakugan no Shana
- Yusaku Igarashi - Nogizaki Haruka no Himitsu
- Hitoma Iruma - Denpa Onna to Seishun Otoko
For Sword Art Online volume 2, Kawahara wrote using his experience playing MMOs. Kawahara played several online games, but he was never able to be a part of a high-ranking group. He envied those players, their equipment, and their reputation. This became his inspiration to write the second volume of Sword Art Online. He wanted to write from the perspective of an ordinary mid-level player, who shared the same feeling of admiration to those high-ranking players. For Sword Art Online volume 3, Kawahara stated he wanted to write a scenario where two people from the same house were both diving without either one knowing; hence, the "Fairy Dance" arc was written.
Accel World and Sword Art Online were both released in alternating months. This was possible for him because the Sword Art Online series had an original script in the first place. Kawahara states that he enjoyed writing explanation scenes the most, but his editor warned him about them being too long. He would jokingly claim that he was Miki's robot [2].
PERSONAL LIFE
Kawahara has been playing online games for about 10 years, probably since online games became popular in Japan. Despite his long history, he usually ends up playing alone. This is because he often played American MMOs, where he couldn't communicate with the party and they would get really angry with him [3].
He states that one of his hobbies is cycling and claimed that he starts his schedule by waking up at 10 AM. Around 1 PM he goes cycling from Tokyo to Saitama, a 35 km ride, and gets back around the afternoon. Afterwards he returns home, showers, and then plays game until he goes to sleep [2].
He usually writes his novels at Family Restaurant. He doesn't write at home because he can't concentrate. If Family Restaurant were to disappear, he claimed that he would retire. Kawahara states that he would work at Family Restaurant, and will finish writing his novels there [3]. He wishes that by the time he reaches old age, full immersion technology would be developed. If it happens, he states he would be a senior gamer. He likes movies and films. He's currently enjoying Star Wars: The Clone Wars TV series.
ILLUSTRATIONS
For character designs, Kawahara often draws a draft of the character and sends it to the artist. The illustrator for Sword Art Online was abec. Hima draws for Accel World. Usually for light novels, the publisher would first have the artist read the novel. Then the illustrator will draw out how the characters should look like based on what they thought about the characters.
SAO & AW MEDIA
For the Sword Art Online anime, Kawahara fully entrusted the director. He was first notified and explained that Accel World was going to be animated. Near the end of the discussion, he was told Sword Art Online was going to be animated. In Accel World, he voices the character "Tin Writer." On Twitter, he would explain to the audience about certain scenes in both Accel World and Sword Art Online anime while they were being aired. He's also been known for responding to all messages on his website [2]. Kawahara did not participate in the story writing for the Sword Art Online and Accel World games. The scenario writer provided several scenarios to him to review and oversee and Kawahara commented that because of the games, he can't use the ideas anymore if he were to use them.
TRIVIA
Kawahara mentioned that Haruyuki was the character most similar to him out of all the characters he made. Just without the sense of justice, friends, and hot-bloodedness. [6]
- Haruyuki was designed to be fat in order to portray the complete opposite image of acceleration
- He did not make Haruyuki fat so that the character would have a complex just for a story
- The Silver Crow avatar design was made by Kawahara
Kirito, on the other hand, was an ideal person whom Kawahara wanted to become. Kawahara commented that he always hesitate to act, pointing out that it took him seven years to finally apply for the Dengeki Award. [3]
During an interview, Kawahara mentions his favorite character is Kuroyukihime (Sword Art Online has yet to be published during this time). [6]
- Kuroyukihime is a sempai character (at school) and a mentor character in game
- He likes characters that are similar to old kung-fu masters
During his radio appearance, he said his favorite girl from Sword Art Online is Leafa [2]
- Suguha was suppose to be flat-chested according to his original art
- Kawahara did not really care for the size, but his editor Miki suggested it
Voice Actor Yoshitsugu Matsuoka mentioned he likes Liza the most. Kawahara mentioned he would write more scenes of her [3]
Sources
[1] アクセル・ワールド ~加速するラジオ~ 第44回
[2] うぇぶらじ@電撃文庫 第06回
[3] ソードアート・オンエアー 第37回, 第38回
[4] 電撃小説大賞 出身作家インタビュー l
[5] 第15回電撃大賞受賞者が、受賞時のエピソードや今後の展開についてコメント!
[6] 第15回電撃小説大賞・大賞を受賞した川原礫先生のインタビューをお届け!
Last modified onMonday, 29 April 2013 09:54