Mamoru Yokota @ FanimeCon 2010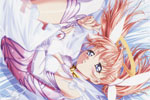 FanimeCon announced on Tuesday that artist Mamoru Yokota will be joining the guest list this year. His more prominent roles include working as animation director for the anime adaptation of Death Note, and as a producer for the 2002 anime version of Kanon, and Air the movie. As an artist, he has released various artbooks and has also contributed promotional artwork to popular series including Code Geass, and Macross Frontier. Interestingly, Anime News Network has noted that he will be appearing at a 18+ only panel. Yokota is also the character designer for several adult themed hentai such as Magical Kanan, and Angelium.
"FanimeCon is proud to announce animator and illustrator Mamoru Yokota as a Guest of Honor at FanimeCon 2010. Born on February 16th in Tokyo, Mamoru Yokota became famous for his illustrations in the light novel series, Rune Soldier Louie. Since then, his talents have extended into producing and directing animation. In addition to doing the original character designs for the anime version of Rune Soldier Louie, Mr. Yokota has also worked on well-known anime like the Toei version of KANON, the theatrical version of Air, Magical Kanan, DEATH NOTE, True Mazinger Impact! Z, Macross Frontier, Astro Fighter Sunred, and HELLSING IV.
Mr. Yokota's art has been featured in many video games as well. Such titles include Nonomura Byouin no Hitobito (Sega Saturn), Doukoku Soshite… (Sega Saturn), Kaen Seibo -The Virgin on Megiddo- (DreamCast), ELYSION (PS2 and DreamCast), two of the games in series Katekyo Hitman REBORN! (PS2), Suzumiya Haruhi no Gekidou (Wii), and Suzumiya Haruhi no Chokuretsu (NDS). Mr. Yokota also works on set designs and manga designs in various Japanese dramas. More details and examples of his work are available on his personal website."