Swap Meet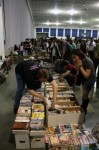 FanimeCon's Swap Meet is one of the place to be if you're looking to get rid of some of the old anime stuff lying in your closet. As a buyer, it's also a great place for some awesome bargains and rare goods. To make clear, this is not a traditional swap meet where people trade their stuff; instead, people buy and sell.
The event is held on Day 0 and on the first day of the convention from 8 PM until 1 AM in the gaming room. The hall was probably more packed with people than the dealer's hall, with shoppers squeezing by each other in order to get around. The sheer variety of anime goods at the Swap Meet significantly outweighed what was available in the Dealer's Hall. Items ranged from huge selection of pencil boards, posters, keychains, and accessories, to rare figures and of course tons of manga. We found people selling manga volumes as low as $0.50 each.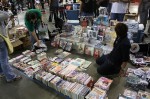 For first time shoppers, I highly recommend going early to scout out some of the stuff you may want. Rarer items such as limited edition goods may disappear faster so grab those first. Don't forget, most sellers are more than happy to haggle. If you can't get it for the price you want, come back later and try again. If the item remains unsold, the seller might be more willing to sell at a lower price.
With the overwhelming popularity of the Swap Meet at Fanime, we can only hope that more conventions will hold similar events.