[Petit Nendoroid] Bakemonogatari Figures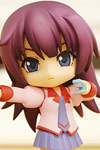 Goodsmile's blog has revealed that they will be releasing figures from the popular spring anime series Bakemonogatari. Only three characters have been shown so far including the show's male lead Koyomi Araragi, Tsubasa Hanekawa the class president, and the verbally abusive Hitagi Senjogahara. The figures will come with interchangeable parts with Senjogahara displayed having a hand with a pink stapler, a blue stapler, and a box cutter. Goodsmile has also promised to add more information soon, and we will update accordingly. Pictures inside!
Moeyo has added some more photos here.