Davis Fan
Full Street Fighter IV Roster Revealed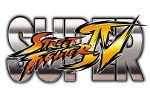 With the Game Developers Conference 2010 in San Francisco,
Super Street Fighter IV
's full roster has finally been revealed. After months of teasing and introducing several characters at a time, Capcom finally showed off Hakan, the newest fighter to join the ranks of Ryu and Ken. WIth this,
Super Street Fighter IV
clocks in at 10 new fighters and 29 total. For anyone who has not kept up with Capcom's press releases, the 10 new characters are T. Hawk and Dee Jay from
Super Street Fighter II Turbo
; Adon and Cody from the
Street Fighter Alpha
series;
Dudley, Makoto, and Ibuki from
Street Fighter III: 3rd Strike
; Juri, a brand new Tae Kwon Do fighter, and Hakan, a comical new grappler who uses oil as a primary part of his arsenal.
Latest from Davis Fan