Bryan Yang
Full Version PV of "NEW Love Plus" Streamed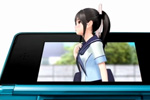 Earlier this week, Konami posted the full-version commercial of NEW Love Plus for the Nintendo 3DS to their YouTube channel. It provides a complete overview of the upgraded feature set for the 3DS version over the previous Love Plus and Love Plus + games for the DS. Below is a list of features covered in the trailer with a brief description of each, the trailer itself is embedded after the break.
Upgraded graphics: Higher resolution models and textures to take advantage of the better 3DS processor.
Gyro System: Use of the gyroscope feature within the 3DS to allow you to move the system around and view your girlfriend from different angles, including above and below.
Photo Taking: You can take a photo of your girlfriend at any time to capture a particular expression or look during a scene for later viewing.
Boyfriend Lock: By using the front-facing camera, your girlfriend will react differently to other faces in front of the 3DS compared to your own.
Hybrid-AR Camera: By using the camera on the back of the 3DS, your girlfriend will pose accordingly, such as sitting on a couch or park bench.
Girlfriend Introduction: Again, using the front-facing camera, you can introduce your girlfriend to your real friends.
3D Vision: Using the upper 3D screen of the 3DS, you can view your girlfriend in 3D.
Date Anywhere: Using the camera AR feature, you can see your girlfriend interacting with any location you visit.
Users' Communication: You can share information about dating spots with other NEW Love Plus players.
Data Transfer: You can import your progress data from both DS games into NEW Love Plus.
NEW Love Plus homepage: http://www.konami.jp/products/newloveplus/
Latest from Bryan Yang