How Fights Work in Yakuza PSP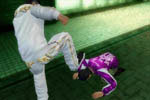 Various fighting modes have been revealed for Kurohyou: Ryu ga Gotoku Shinsho, Sega's upcoming Yakuza spin-off. There will be three modes: Submission Battle, Tag Match, and Team Battle. In addition, players will be able to create their own characters and take them into the ad-hoc duels. Apparently, none of the modes will feature life bars, which developers say will enhance the overall atmosphere. No idea how players will know if they're winning or losing as of yet. More after the jump.
Submission Battle supports up to four players. At the end, the winner will publicly humiliate the loser, beating him on the street. Players can choose one of several phrases to say before beating the loser down, all of which have varying degrees of degradation. Tag matches will be split into two teams of four, including team attacks that are supposed to be more devastating than normal attacks. Team battle forms two teams of up to five players each and pits them against each other; the first team to take down three players wins the match. The game lands in less than a month on September 22, so fans will have to sit tight and wait a bit more before they can virtually humiliate their friends yakuza-style.
[Source: 4Gamer.net]
Last modified onSaturday, 31 March 2012 03:25