Prince of Persia Creator and Casts Heads to WonderCon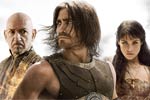 Disney's movie adaptation of Ubisoft's Prince of Persia The Sands of Time video game has been confirmed to appear at this year's WonderCon. Tentatively scheduled, Producer Jerry Bruckheimer, Director Mike Newell, actor Jake Gyllenhaal who plays Prince Dastan, and interestingly, video game designer and creator for the Prince of Persia series, Jordan Mechner, are set to appear at a 12:15PM panel on Saturday April 3, 2010. Mechner is one of the first and currently only video game creator to adapt his own creation. WonderCon is hosted by the same organizers as Comic-Con International in San Diego, and will be held at the Moscone Center South in San Francisco from April 2-4, 2010.
"Prince Of Persia: The Sands of Time—Join Jerry Bruckheimer (producer), Mike Newell (director), Jake Gyllenhaal (actor, "Prince Dastan"), and Jordan Mechner (screen story, game creator), as they take the WonderCon stage to show an exclusive sneak peak from Prince of Persia: The Sands of Time before its May 28 release. Set in the mystical lands of Persia, Prince of Persia: The Sands of Time is an epic action-adventure about a rogue prince (Jake Gyllenhaal) and a mysterious princess (Gemma Arterton) who race against dark forces to safeguard an ancient dagger capable of releasing the Sands of Time—a gift from the gods that can reverse time and allow its possessor to rule the world."