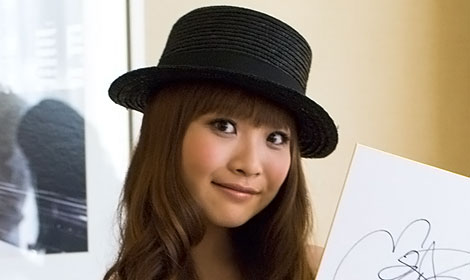 Japanese pop star May Nakabayashi (May'n) who's probably best known as the vocal for Sheryl Nome from the anime series Macross Frontier, was in attendance at Anime Expo 2010 in Los Angeles to meet her fans as well as for a live concert performance. Having only briefly chatted with May'n previously at Animelo Summer Live 2009 in Japan, we conducted a followup interview a couple days before her American performance.
T-ONO: Have you been to America before and if so, how do you like it so far?
May'n: This is my first time here. I was really impressed with the Hollywood sign because I got to go see it yesterday! I think the cityscape is really clean and nice and I really want to go visit a lot of other places.
T-ONO: Any places in particular?
May'n: Some theme parks, since there are lot in the L.A. area, and I want to go shopping in the Melrose and Hollywood area.
T-ONO: The last time we spoke with you, you mentioned you had your first solo at the Budokan arena. What was that like?
May'n: Because the Budokan arena is very famous in Japan, it has a lot of traditions to it, I felt like the atmosphere surrounding around it was really special and warm. I felt like I was able to get closer to my fans and be a lot friendlier with them.
T-ONO: Having performed at Budokan, and performing here in the United States in a few days, are there any particular places she would like to sing at?
May'n: There are lots of places I would like to perform, but there are also still a lot of places in Japan that I haven't performed at that I would like to go too. I've been very surprised by the fans in other nations, so I would like to go to other places where there are such fans to meet with them and perform for them as well.
T-ONO: With most of the work that you've worked with that has been related and associated with the anime industry, are you concerned that your current and future career might always be compared to Sheryl from Macross Frontier?
May'n: For me it's hard to differentiate from Sheryl and May'n, I feel like they're both a part of me, whether I'm doing something as Sheryl or something as May'n. When I do songs as Sheryl there are different life experiences that I'm able to sing about. These all add up to what I do as a whole. I still feel like I want to keep Sheryl as an important part of my life, even in the future.
T-ONO: Are there any particular experiences that Sheryl went through that you can relate to?
May'n: My character Sheryl is a girl that really loves music and has a lot of pride in her music. I feel like that is something I relate to very much as well as something I love about Sheryl.
T-ONO: Are you working on or any current or future projects?
May'n: In Japan I currently have an anime series that I'm recording for (Ookami-san to Shichinin no Nakama-tachi). So that's one of the upcoming ones as of now, but I really hope to continue releasing new singles, so if people can look forward to that, that'd be nice.
T-ONO: Apart from singing, do you have any other hidden talents that your fans don't know about?
May'n: There is a Japanese confectionery snack called Taiyaki, the one with red bean paste inside, and I love it. I can tell just by eating it where it's from, like what store made it (laughs).
T-ONO: And finally, a video message for all your fans in America!
Last modified onTuesday, 30 December 2014 13:38