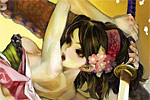 While the Wii may not be the best console for hardcore gamers, it does occasionally have a few surprises here and there. Vanillaware's 
Muramasa: The Demon Blade
is one such surprise.
Muramasa
is one of the most visually appealing and artistic games and a perfect example of art in entertainment. I had to dust off my Wii just for this game, which is a testament to the lack of hardcore games on the system. Will
Muramasa
be enough to make the Wii worthwhile for hardcore gamers?