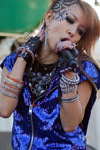 In an effort to clear out the backlogging of articles before the new year, here's one of the first. Pop Korean star BoA made a visit on stage at the San Francisco Pride Parade on Sunday June 28, 2009. Appearing at a rather odd event, that didn't stop thousands of BoA fans from showing up in droves with cameras and camecorders.
For the anime fans, they may vaguely remember BoA for her song Every Heart (Minna no Kimochi) used as the third ending for Inyasha the anime.
Regardless of some of the problems, the performance starting almost an hour late and a cameraman in front of the stage blocking the audience's view, it was definitely a welcomed wait for fans. Short video clip as well as photos from the front of the stage inside.