Miku Party at 9 Cities Across USA!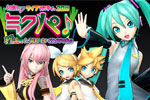 This coming November (11/10), an event called "Miku Party" will be held at 8 different cities across USA! and San Francisco is one of them. This is a world-wide celebration event for Vocaloid fans, "Miku-pa" (Miku party in Japanese) also planned in Thailand, Brazil, France.
During Miku-pa, the live concert in Sapporo will be screened to the fans overseas. it is a special event celebrating the release of "Hatsune Miku Live Party 2011" DVD release on 11/16.
You can find more information by clicking the English tab over at this website and at the official Japanese site of Miku-pa.
After posting to my Facebook, many of you asked: "which are the 8 cities? is my city included?"
Just got updated, the 8 cities are:
Hopefully there is one near your city! :)
After success of Hatsune Miku's first USA live concert in Los Angeles, and J-Pop Summit Festival in San Francisco, this is the next big event planned by Crypton. I'm glad I could help some for the promotion of this event :) If possible, please help distribute the news. Thank you!