Stephen Bajza
U.S. Man Arrested in Canada for Possession and Importation of Manga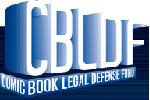 The title may sound too ridiculous to be true, but it's not. According to the Comic Books Legal Defense Fund, the CBLDF, a U.S. citizen was flying from his home in the States to visit a friend in Canada and, while at the airport, security searched his laptop, iPad, and iPhone. Customs determined that the manga found on his laptop was child pornography, and he is now being charged with possession and importing these materials.
There's no mention of what type of manga the man, a computer programer in his mid-twenties, saved to his laptop. It's possible that Canadian officials determined ecchi, titlating but not erotic situations, or moe, situations involving cute girls, were actually erotic, or worse yet, they opened the wrong page in any number of Japanese titles containing benign child nudity. In the event that he was in fact holding on to lolicon or shotacon hentai, pornographic manga involving underage girls or boys respectively, support for him may wane drastically as was the case in 2007 with Christopher Handley who ended up serving a six month sentence in jail.
If the accused man had saved something not meant to be erotic, then the comic book, anime, and manga fan communities will need to act in unison to defend materials that may be perceived as illicit or perverted. However, if the manga in question are fully pornographic and involve small children, the issue becomes far more complicated. Many would say art is always art, and censoring any form of it is wrong and that there is no crime committed in simply looking at the materials. On the other hand, others would say that such materials are indicative of pedophilic tendencies or are in some way morally harmful to living children.
The debate is ongoing, and as anime and manga becomes more prevalent around the world and government actions against lewd or indecent materials and behavior seem to step up in intensity, what the future will bring is a matter of theory.
If you would like to support the unnamed U.S. citizen, you can donate here to the CBLDF to support his case, and you can read more from the original article and another that provides additional information.
Related items
Latest from Stephen Bajza