Salvador Mateos
Yamada's First Time (Blu-ray/DVD) Review
When was your first time? For me it was not very long ago; actually, it was a few months ago and it was kind of confusing and there were a few people there too… What? Wait, don't stop reading and don't think dirty thoughts! I was talking about my first time hearing about this anime with some of my friends. I too was confused with the title -- I had a totally different idea of what Yamada's First Time was about, to tell you the truth. Since I was assigned to review it and it came from FUNimation, I felt it safe, but boy was I wrong. I began to watch it and soon found out this is not the anime to watch with little kids around.
In Yamada's First Time, we follow Yamada, a girl who has a very different goal from any other high school girl that I have ever known: she wants to sleep with one hundred guys. There is just one small problem: she is still a virgin, and even though she is very popular in school, she doesn't want just anyone to be her first. She wants to, shall we say, get some practice in and for that she comes to Kosuda who is a so-called cherry boy. She decides that she will grant him the honor to be her first, but in reality she just sees him as a stepping stone towards her life goal. Since Kosuda is plain and simple, he fits Yamada's requirements just right but she soon finds herself falling for him while he has a hard time understanding what she actually wants. There is a lot of misunderstanding from both sides which leads to very comical events.
This anime is like Love Hina with a little bit of Kare Kano but with a lot, and I mean a lot, of ecchi. In this anime, it's the girl who takes the initiative and chases after the guy. This theme is not the traditional formula for an anime which gives it an interesting twist. The fact that they touch on the subject of intercourse does narrow the target audience; most vieweres tend to watch more family oriented anime, not one where they actually try to make a family. The anime does stay on the echii side and does not cross over to becoming hentai, but sometimes they do tease the viewer. The humor is done very well, and they even have ero dieties who bother many characters. They are similar to the little devils and angels that appear on characters' shoulders in American cartoons, but in this anime, they direct them towards only one goal, which is intercourse. The ero dieties are chibi versions of the main characters – Yamada's is a smaller version of herself with a mustache. and Kosuda's is just plain and dull but with a special humor element.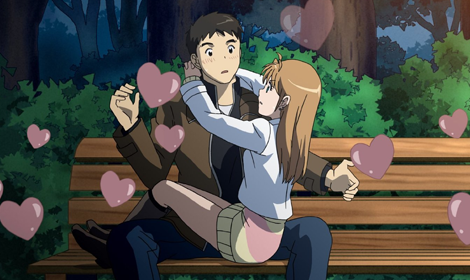 The voice talent includes Yui Horie as Takeshita,Yamada's best friend. We all know her from many other roles such as in Love Hina (Naru Narusegawa), Kanon (Ayu Tsukimiya), School Rumble (Eri Sawachika), Toradora! (Minori Kushieda) and many more. Also, Yukari Tamura, who voices Yamada, has been in the anime Kanon as Mai Kawasumi alongside Yui Horie. The English talent is amazing as well with Brittney Karbowshi as Yamada, Cherami Leigh as Takeshita, and Scott Freeman as Kosuda.
This anime was hilarious and had the right amount of naughtiness in my personal opinion. Like most anime, there is a funny episode featuring bathing suits, but instead of the beach they go to a pool. I enjoyed the show and it left me wanting more, and yes, I was cheering for Kosuda. This release comes as a DVD/Blu-Ray combo pack with two discs for each format for a total of four. Fans can switch between Japanese and English audio at their leisure. Yamada's First Time is a short series with only twelve episodes, and it seems like there is a place for an OVA, but it may just be me hoping for one.
The DVD/Blu-ray surprised me a bit with their extras since they have a commentary for episodes one and two, and they also have bloopers showing the voice actors messing up their lines. This is just for the English cast but it's still really funny to hear them messing up their lines. The opening, "Oshiete A to Z," and ending songs "Hadashi no Princess," are both performed by Yukari Tamura. Also, there are insert songs, "BH B-gata H-Kei," and, "Kondo-san nara Oni-jirushi." One is catchy but the other one is just plain funny and has to do with condoms. I will let you figure out which is which. One of my favorite quotes in the English audio comes from Kosuda when Yamada places his hands on her chest and says, "Hey boobies, what's up? Yamada says its all good," while he is in shock. This made me roll around laughing. So with that, I do recommend this anime to those who are fans of ecchi comedies and also fans of high school dramas, but not for those who are offended by sexual references or have small children. To them I say: skip this and go get something else. So now, tell us how your first time was watching this anime. We hope to hear from you, and don't skip the details.

---
What I Loved:
+ Nice twist on theme of boy chases girl
+ Great story keeps you laughing
+ Extras such as bloopers and commentary are a nice addition
+ Oh yea, and Ecchi-ness makes it all good
What I Hated:
- Too short maybe an OVA is needed (Hint, hint.)
- Might cross some boundaries for some due to adult concepts
- Narrow the target demographic
Disclosure: A review copy was provided by the distributor
Images copyrighted:FUNimation/Hal Film Maker
Last modified on Sunday, 08 November 2015 16:28
Related items