Kalafina (カラフィナ) Interview
Japanese all female group Kalafina, made their second American appearance at Anime Expo from July 1-4, 2011. Consisting of vocalists, Keiko Kubota, Wakana Ōtaki, and Hikaru Masai, the group was originally formed to perform music for the anime adaptation of Kara no Kyokai (The Garden of Sinners), but their unique musical styling has lead them continue to this day. Their more recent music has appeared in the popular series, Puella Magi Madoka Magica. Hear what this trio had to say in our brief interview!
T-ONO: First of all, we would like to thank everyone for coming to the U.S. to perform a concert here in L.A. We were wondering if you have performed concerts in the U.S. before and how does it feel to be back again?
Kalafina: Last time, we were at Anime Boston in Massachusetts and we are excited to be back in the U.S. again to perform. We prepared the show specifically for the L.A. fans, so we hope whoever that watches our show will have a great time.
T-ONO: Were there any special preparations done for your performance at Anime Expo?
Kalafina: We would always make sure to practice our vocals after every rehearsal. It would be just the three of us together no matter what, but for the L.A. performance, we had rehearsals every week. During rehearsals, we tried different things, we would do our own MC rehearsals, perform as if there was an audience in front of us, and made the performance to be over the top, compared to the ones we did in Japan, for the audience in the U.S.
T-ONO: Was the MC part difficult?
Kalafina: We're still working on finishing up exactly how that's going to go, but we are Japanese and we will do everything we can for the American audience. Although our MC might be a little off for the American audience, I hope the American audience can relate with us through our music.
T-ONO: We hope that goes well for you.
Kalafina: [laughs] Yes, thank you very much!
T-ONO: We can't help but notice your outfits. Can you tell us a little about them?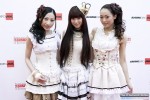 Kalafina: These costumes are from our last tour in Japan and our costumes are a very important part of Kalafina. Every time a new single (song) is released, we would change our costumes to match the song. Our costumes illustrate the world and atmosphere of Kalafina. Each of our own characteristics are expressed through these costumes. All of our costumes have the same style, but each costumes have minor details that are different to show our different characteristics.
T-ONO: As a group, you have referred to your music as "Kalafina sound" or "Kalafina style", can you elaborate a little more on what you think is a defining characteristic of your music that makes it unique and different from other artists?
Kalafina: We define our music as our own genre called Kalafina. People that listen to our music might have different reactions, but we believe that within our deepest roots and beliefs, people will have the same feeling as in our music. We hope people will see our view of the world through our live performance. This is our second time in the U.S. and we want to come back more often. However, for the people who could not make it to our live performance, we hope that they can feel the same view of the world in our music through our CDs. Our producer, Ms. Yuki Kajiura, has a grand view of the world that usually surpasses our imagination, but we always enjoyed the challenge of taking what she has created for us, see what harmony we can create through our performance, and what sort of music we can come up with to keep everything new and fresh every time.

The difference between our music and other artist is that we consider ourselves as one, rather than three. We believe that to create one big harmony with three of us is something that only Kalafina is capable of and that is what makes it different from all the other music.
T-ONO: How did you get involved in the music of Puella Magi Madoka Magica series.
Kalafina: We were able to get involved in the music for Puella Magi Madoka Magica because of our producer, Ms. Kajiura, who was responsible for the music for that series.
T-ONO: Are you currently working on any projects?
Kalafina: We're working on our third album right now in Japan, it's going to be released in Japan this fall. Currently there is not a release date for U.S., but we hope our music will come overseas because we're going to give it our all so that the U.S. audiences can enjoy it as well.
T-ONO: Do you have a closing message for the English speaking fans?
Hikaru Masai: First of all, hello everybody in L.A. This is my second time coming to the U.S., but it is my first time coming to L.A. and everything is new to me. It is exciting to be here that I feel really happy that I get to come back to the U.S. again. We will be performing live at Club Nokia on July 2nd, so we hope you all can enjoy and feel the raw music of Kalafina through the live performance. I hope we can come back to the U.S. again to perform for our U.S. fans that could not come to our concert in L.A. We will do our best performing in Japan so we can come back to the U.S. again. Please buy our CD if you like our music and help us come back to the U.S. Thank you!

Keiko Kubota: When we were told that we were going to L.A. to perform, we were all excited. We will do our best to cherish the time we will have with the people in U.S. We are going to do our best performing so we hope you will enjoy our music in the future.

Wakana Otaki: This is our first time performing live in L.A., so we are really excited to be here. It is really fun and exciting to meet people that we never met before so we hope that we can express our happiness with explosion(metaphor) through our live performance, so please come to our concert!
Interviewers: Roger Lee, Theodore Mak