AniMaid Cafe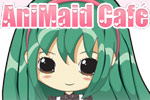 This year marked the first ever AniMaid Café at Anime Expo (AX) 2009. The café began when a group of cosplayers put together an undisclosed private event back in March 2009 and some members of the Anime Expo staff were on hand to observe. After enjoying the event, they invited the group to hold a maid café at AX. "We trained immediately after AX officially announced the café, so we started training the maids for about a month. We trained every weekend, on Saturday" said Kchan, Head Maid of AniMaid Café.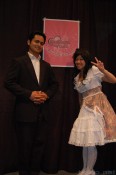 We visited the AniMaid Café around 10:30 PM on Sunday night for their last show. There were 3 shows every night costing $20 per show if guests preregister online and $25 at the door; food and drinks are included for the 1 hour event. The entrance had various groups of people trying to get in, but sadly the event had already been sold out the night before. We were only able to stay briefly to observe. Kyosuke, one of the cafe's host politely suggested that in the future people should order their tickets ahead online. "We had a fairly good amount of seats sold online" said Kyosuke, "Always visit our website, we have postings update all the time, including general information for people looking for a place to go like this." Kosuke also informed us that the café actually opened on the day before the convention started with a fair amount of people sitting in, filling about 60 to 70 seats. Successively after that, almost every show was nearly sold out.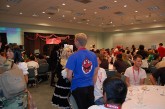 The café was completely packed with roughly 10 guests per table sitting at 10 different tables. Guests were served a limited variety of snacks and appetizers as those are enforced and provided by the convention staff. A small stage was erected on the side; maids were singing and dancing with San Francisco Bay Area idol, Yukie Dong. "All of our maids are fully trained with special dances, songs, and skits for our stage" said Kyosuke. Maids and hosts dressed in various cosplays and maid outfits were also playing games with the guests.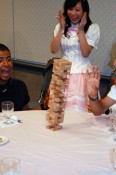 We spoke with another host, David who explained the rules on playing games. All guests at the café are entitled to one free game with the maids or hosts. Additional games cost $1 per game. Games include Scramble, Hungry Hungry Hippos, Guess Who, Jenga, etc. If the guests win the game, they receive a red ticket. Two red tickets will allow for a photo with any of the maids or hosts in the partitioned off special photo booth of the café. If a guest loses too much, he or she may be offered to take a picture with any of the maids or hosts for $3. Photos are taken by the AniMaid Café staff and can be redeemed from their website. It's worth mentioning that these photos will be available for public viewing. "Probably the most popular game by far is Jenga, followed by Connect 4" said David. Guests are also allowed to team up to play with the maids or hosts, but they will also win or lose as a team.
Compared to other maid cafés we have been to, this was probably the closest to the real thing in Japan. Other maid cafés were missing the live stage performances which this had. Probably the only complaint I had was that the room was a bit cramped and got pretty stuffy. Again, due to the event being sold out, we only observed the proceedings and did not take part in it. Apart from that, it appeared to be a wonderful experience for those looking for a taste of Akihabara. For more information, please visit the AniMaid Café's official website at http://www.animaidcafe.org