Stanley Fung
Cardcaptor Sakura: Clear Card Arc Prologue Anime World Premiere at Anime Expo 2017
Glad tidings from Anime Expo as a new Cardcaptor series is on its way. Morio Asaka is returning to direct the anime iteration of Cardcaptor Sakura: Clear Card. Kodansha is bringing the manga to the US, and, while it's been almost 20 years, the enthusiasm of the fandom has not waned. The OVA deviates from the end of the second Cardcaptor movie in a major way. Sakura's confession to Syaoran was retconned into nothing, yet hope remains. Touya and Yukito are very much together, and Eriol and Kaho are preparing to head back to England hand in hand. Syaoran gets a call from his mom telling him to return to Hong Kong. Before going back however, Syaoran makes a valiant confession to Sakura who is at a loss to respond.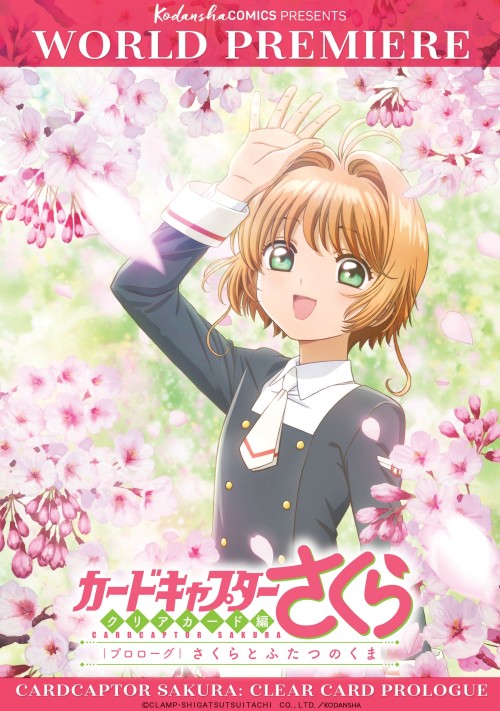 Thankfully, it was mostly due to confusion because, honestly, Eriol isn't in her league, and we all know that he will soon be off to merry old England with some of his familiar friends and Kaho. Kyouya is displeased with Syaoran's confession but does his best to express that he cares. Kero-chan is as clueless as ever and suspects that Sakura has an illness. Thankfully, this is an OVA, and they didn't drag out her indecision.
Sakura makes a pink-winged confession plush bear as a counterpart to the gray plush bear Syaoran gave her. Fate is kind, and Syaoran asks and receives permission to call his bear Sakura. In exchange, Sakura asks and receives permission to call her bear Syaoran. The question is once again settled, and Sakura and Syaoran are once again in mutual reciprocated love. As Sakura prepares to go to middle school, the cherry blossoms are in full bloom. She soon spots a silhouette who is holding a pink-winged plush bear.
I don't expect this new series will deviate much from the manga and I look forward to the series debut in 2018. It was a bitter pill to swallow to discard that lovely conclusion The Sealed Card. However destiny would not be denied, but we will have another season to see what challenges lie ahead in 2018.
Latest from Stanley Fung