New Animated Code Geass Projects for 2012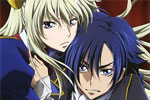 At a press conference held earlier yesterday, new details about upcoming Code Geass projected were announced.
Code Geass: Boukoku no Akito (Akito the Exiled)
Currently it is unclear if this will be a full season show; however, it has been announced the first episode will be screen this summer in Japanese theaters. The story takes place during the events of the original series and follows Akito, voiced by Miyu Irino and Layla, voiced by Maaya Sakamoto in Europe.
http://geass.jp/akito/index.html
Code Geass Gaiden: Nunnally in Wonderland
A new OVA release that retells the fairy tail of Alice in Wonderland with Code Geass characters that's set to release with a picture book.
Code Geass will also be getting the stage treatment in a full blown musical (http://www.geass-musical.net/) and apparently a film adaptation of the original series is also in the works.