Dawn Lam
Pretty Guardian Sailor Moon Crystal Season 2 (Blu-ray) Review
When I was first informed of the re-make of my favorite childhood series, I was ecstatic. I was head over heels for all things Sailor Moon before it was even brought over to the West. I had the trading cards, artbooks, and basically anything I could get my hands on. I watched the anime but only a few episodes a month as they were difficult to get a hold of. I wanted to learn Japanese, so I can read the manga as they were released. I copied art from the artbooks and wanted to be a manga artist. Sailor Moon inspired me to draw and was my gateway drug to all things anime.
I have been meaning to watch Crystal but have not gotten around to it. As a long time Sailor Moon fan, I had no problem diving right into the middle of the series and understanding the plot. I started with the season 2 on blu-ray which contains the Black Moon arc from episodes 15 to 26. I enjoyed the pace of Crystal compared to the original, as it not only kept with the plot of the manga, it is also closer to Naoko Takeuchi's style. I am aware of the complaints regarding Crystal regarding the unrealistic art style of the girls and the overall changes in aesthetics that was made to the series. However, I feel that the art is just a modern magical girl style. The art is especially stylish with feminine undertones and more closely resembles the manga. In my opinion, there are plenty of other changes as well that makes Crystal better than the original. For example, Chibiusa is significantly less annoying and has better character development paired with an in depth backstory. I also found that the overall tone of Crystal was less silly and more mature from what I remembered.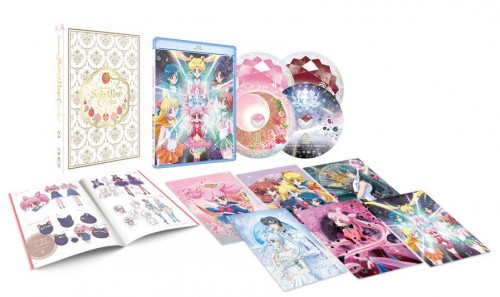 With the release of the blu-ray combo sets, there are many bonuses included that kept me entertained after I finished watching. For example, there is an interview with Momoiro Clover Z (the band that sang the intro), the clean version of the opening and ending song (meaning no credits and music only), and an art gallery of the characters. In addition, the set also included both Japanese audio and the English dub.
I loved the original Sailor Moon anime and I am beyond in love with the remake. As a diehard fan, there are several points to complain about compared to the 90s anime, but as a fan of the manga, I appreciate how Crystal keeps with the original plot. Overall, Crystal follows the original source material and the vision of the original creator. I definitely recommend it as an anime series to check out. Treat it as a new anime and not in comparison to the old.
Courtesy Copy provided by Viz Media
Last modified on Wednesday, 03 May 2017 11:37
Latest from Dawn Lam