NIS America Goodie Giveaway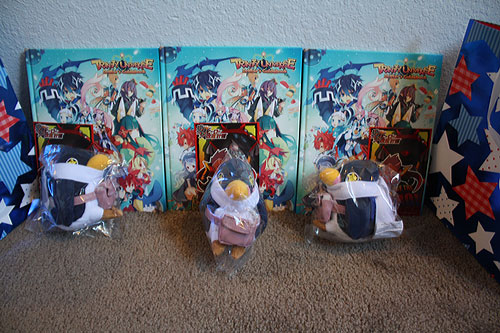 We know most of you couldn't be at NIS America's press event, but fear not! We brought back with us gifts! That's right folks, we're giving away free 3 NIS America press event goodie bags each containing:
(1) Prinny Asagi Plushie (not currently available at their online store!)
(1) Trinity Universe Drifter's Guidebook (hardcover)
(1) Z.H.P. Sticker (not available anywhere!)
How to Enter?
There will be three ways to enter with one winner per method:
1. Become a follower of The-O Network Online on Twitter and retweet the following message: "I hope I win the @tononet contest for an NIS America goodies bag! #tonoNIScontest"
2. Like our Facebook page here and comment on the link regarding this contest!
3. Be a member of the community section (free to join) of The-O Network Online and message this profile with the subject header "I want an NIS goodies bag!"
Contestents must be residents within North America. Winners will be contacted directly and will have 72 hours to respond.
(Note: You can enter through all three methods, but you can only win once)
All prizes are brought to you by the friendly folks at Nis America.
(Contest deadline August 6, 2010)