FLOW heads to FanimeCon 2010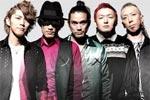 San Jose based anime convention, FanimeCon announced on Friday that Japanese rock band FLOW will be performing at the event. FLOW's music has been used in anime series such as Code Geass, Eureka Seven, Heroman, and Naruto. FLOW has made a previous American appearance at Anime Fest 2009 held in Dallas, Texas.
"FLOW Blasts into San Jose for FanimeCon 2010
FanimeCon gives an energetic welcome to Japanese rock sensation, FLOW. The "five-piece" band will make a splash in the San Jose Civic Auditorium on Friday, May 28th, as part of FanimeCon's 2010 MusicFest. (Please see schedule for performance start time.) In addition, band members will answer the blazing questions of focused fans during a Q&A panel and will sign items at their autograph session.
FLOW is a five-piece rock band made up of vocalists KOHSHI and KEIGO, guitarist TAKE, bassist GOT'S, and drummer IWASAKI. After their major-label debut in 2003 with the song "Blaster", this chart-topping group released many theme songs for popular anime such as Naruto, Code Geass, Psalms of Planets, Eureka Seven, and Persona. Their 2006 Best album has sold over 250 thousand copies, and their 2008 tour rocked every single prefecture in Japan. This journey culminated in Tokyo at the Budokan. FLOW's recent single "Calling" is featured as the ending theme of HEROMAN, an anime from Japanese studio Bones and Stan Lee of Marvel Comics, and was released on May 12th.
If you have free days during Memorial Day Weekend, then join the party and have a fun time with FLOW at FanimeCon 2010. To see more of FLOW, please visit their official website at http://www.flow.mu"