Jason Vien
Fanime 08 - Meet Gainax Event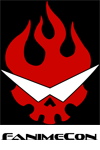 It's a nice, clear sky-ed Sunday evening and I'm shuffling over to the Fairmont Hotel - a couple blocks down from the actual convention center - for the Meet Gainax event. Walking pass the valet service and into the foyer I can't help but gaze at all the swanky cars with envy in my eyes and drool welling up in my mouth. Anyway, having no idea where the event room was, I stopped over at the hotel concierge service to inquire. I left the lobby with vague directions from a receptionist with a nearly incomprehensible accent, but eventually I found what I was looking for.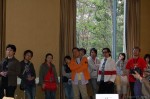 A relatively short line formed outside the event room, and soon enough we congregated inside, but not before 2-3 Fanime staff members vehemently checked our tickets (of which this event required) and with a similar vehemence shouted "ticket CONFIRMED!" in acceptance.
Now
I'm inside.
A first glance around the room revealed a mass of what seemed to be just attendees (including guest of honor Carl Gustav Horn) in a formed circle around a table of assorted finger foods and other refreshments. It didn't take long for me to realize that the large group of people on the opposite side of the table, against the windowed-wall, was the staff of Gainax studio.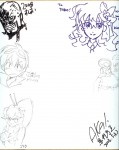 I had imagined prior to this event that Gainax had sent a small group of staff to Fanime for the bevy of panels and this meet and greet, but I had no idea that almost the entire staff had come. I later learned the staff was on vacation and Fanime was just one of their stops (cool, no?). Anyway, one by one the staff of 40 or so stood up on a chair and with the help of a bubbly translator introduced themselves. We managed to snap a photo of each and every staff member. Afterwards everyone in the room mingled and chatted, presumably over
Gurren Lagann
, the state of Gainax, and sketches (of which almost every Gainax staff member seemed to be capable of).
Scooting around the room was a difficult endeavor considering there were about 40-50 attendees attempting to speak to the Japanese staff through only 5 or so translators. Queues formed for sketches and autographs, and most of the staff managed a good amount of them all the while snacking on the hotel hors d'oeuvres .
I came unprepared (should have bought some sketch boards, darn!) but managed to get my Fanime press badge signed by none other than famed Evangelion Character Designer Yoshiyuki Sadamoto. I also got in a couple of awkward words with Carl Horn, expressing to him what I thought of his Dark Horse panel. A couple of our very own staff including our Executive Editor managed to be more successful in acquiring really cool sketches.
If you'd like to see more great shots from our FanimeCon 2008 coverage, be sure to check out the
gallery