J. M. Alcala
FanimeCon 2012: Aniplex & VIZ Report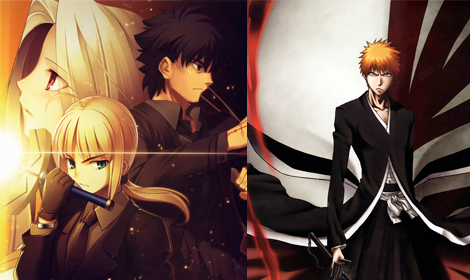 For fans of manga and anime, announcements from both Aninplex USA and Viz Media at Fanime 2012 were sure to please, though both definitely cause a bit of hurt on their wallets. With upcoming releases that will excite old and new fans, both Aniplex and Viz have a little something for everyone.
At the Aniplex USA panel, things kicked off with a bang as a Fate/Zero Saber cosplayer stood watch over the crowd as a trailer of Aniplex's current releases was shown onscreen. Once the trailer had concluded, fans were treated to another featuring the company's newest series, Blue Exorcist. While volumes one through three are readily available, volume four of the popular shounen series featuring demons, guns, and high school characters will be released on June nineteenth of this year. Next up, Puella Magi Madoka Magica, a series featuring cute girls, magic, and the popular Kyubey has enjoyed a lot of success with fans far and wide. For newcomers, a limited edition box set of the series is available as a Blu-Ray/DVD combo pack with a host of goodies for both volumes one and two while the third volume is set to be released on June twelfth; for fans who can do without the extras, there are also standalone versions of the volumes available in either Blu-Ray or DVD.
Another big release is Fate/Zero, which is part of the long-standing Fate/ series and has a loyal following amongst the anime/manga community. Despite the high price of the import Blu-Ray box set, which includes five Blu-Ray discs and two bonus CDs, many fans recognize just how well-done the set is for collectors and can look forward to the second box set arriving on September nineteenth of this year. In another show of support for the Fate/Zero series, Aniplex USA announced that they would be selling the CDs of LiSA, who provides the opening theme, and that she would be a Guest of Honor at Anime Expo of this year. For a bit of fun, Aniplex USA is releasing a series of web episodes on their website called Aniplex Guy in Japan, which follows Aniplex USA's EJ on his travels through Japan.
Aniplex USA wasn't done yet as they also announced that several popular series were being re-released later this year. The complete set of Oriemo will be available as a DVD box set in the summer of 2012 and will also be joined by the re-release of Baccano! on Blu-Ray as well. For the fall,Bakemonogatari is set for release as a complete Blu-Ray box set but unlike the high price of of say Fate/Zero, the pricing for Bakemonogatari will be much more affordable for the North American domestic market. Finally, The Garden of Sinners will be available as a limited edition Blu-Ray box set sometime this fall. After a short Q&A session where a bit more information was gleaned: there may be a possibility of Madoka being featured on Cartoon Network's Toonami someday, the trilogy of the Madoka movies may also be released one day, there is no news regarding the Bakemonogatari prequel movie, and that most of the series that Aniplex USA is given are generally from Aniplex of Japan.
When it was Viz's turn, the fun didn't stop. Right off the bat, fans were presented with a huge box that contained two huge volumes of the Nausicaä of the Valley of the Wind, which will be released to the masses as a deluxe edition on November sixth of this year. For fans who have been looking for a chance to catch up on their manga reading, Viz announced that Barnes & Noble (via their website) would be discounting box sets of several popular manga starting June fourth; fans who don't have the space to own the box set or are new to a series, no need to worry as starting June twenty-fifth, Barnes & Noble will be selling their three-in-one omnibus editions at a discounted price as well.
On the anime front, Viz announced that Bleach volume twelve was currently available while volume thirteen would be released next month, which is also joined by Naruto Shippuden as its own volume ten is available now while volume eleven will also be arriving next month. Pokémon fans can rejoice as Viz announced that the movies for Black and White will also be coming out as a boxed set containing both movies. Finally, for InuYasha fans waiting for the conclusion of the long-running series, InuYasha: The Final Act will be released on both Blu-Ray and DVD in November of this year. Prefer streaming over physical media? Viz has you covered as well with the release of Zetaman, Accel World and Naruto Spin-Off: Rock Lee & His Ninja Pals on both Hulu and Viz Anime, which releases new episodes every week on certain days.
For new series releases, Viz announced that they will be releasing Honey & Clover and High School Debut, both physically and digitally via Viz's own website or through their iOS app. These popular shoujo series are also joined by Miki Aihara's Honey Hunt as well as Mistress Fortune. Wanting a bit more laughs and some card battles in your manga? Excel Saga and Yu-Gi-Oh! Zexal will be available starting June fourth while fan-favorites Case Closed and Fushigi Yûgi: Genbu Kaiden will be out on June eleven; as an incentive to try out the digital versions, Viz will be offering these series at a discount. Shonen Jump fans would do well to pay attention to Weekly Shonen Jump Alpha, which will now be running Rurouni Kenshin: Restoration in place of Bakuman (as it's ended it run) as well as receiving special one-shots of manga, special Yu-Gi-Oh! cards and other incentives for joining the annual service. Before Viz's panel concluded, they provided con attendees with one last announcement: Tiger and Bunny will be available on both Blu-Ray and DVD in early 2013.
Latest from J. M. Alcala