Jason Young
Steins;Gate 0 (PS4/Vita) Review
Obvious: spoilers for the first Steins;Gate game ahead!
Having first reviewed JAST USA's PC release of Steins;Gate in 2014, I had originally thought that this well-told time-travel story was complete and had nowhere left to go. Sure, I'd watched the movie Steins;Gate Fuka Ryōiki no Déjà vu but to me, the story of Okabe reaching the Steins Gate world line to save both Kurisu and Mayuri was complete though even that felt a bit superfluous. Now after hearing about, and having played, the "sequel/expansion pack" Steins;Gate 0 I'm glad I've never been so wrong.
Taking place solely on the beta world line of Steins;Gate where Okabe Rintaro had made the decision to say screw the world and selfishly prioritize Mayuri's happiness, Steins;Gate 0 expands on the repercussions of the events that happened in the first game; particularly Okabe killing Kurisu for the sake of the world and the events leading up to World War III. We're presented with the dark tale of a broken down man and if you had either played or watched the original Steins;Gate, and are reading this review, as I'll assume you have, then Okabe's despair and self-pity party begins to hit you right from the start.
After having seen Mayuri die a hundred times in the alpha line Okabe is left in a very dark state and has given up on trying to manipulate the world lines to try and save Kurisu Makise. Instead, he has chosen to try and live life as a normal college student while coming to terms that in the end he's powerless to do anything even with Reading Steiner. The entire cast from the previous game returns to reprise their roles from the first game, but given that the game takes place on the beta line shows different personalities than the ones that we grew accustomed to on the alpha line.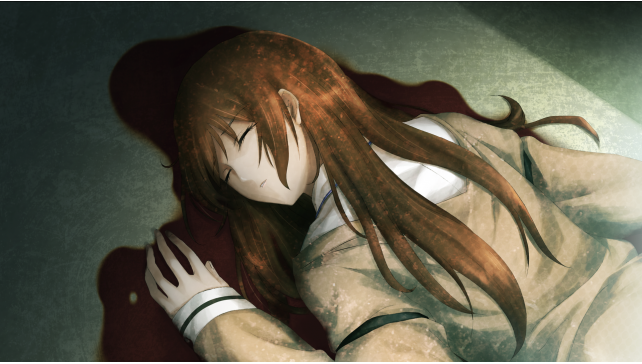 During the course of the visual novel, players are taken for a ride through a switch of perspective and narrative to secondary characters to help flesh out the plot of the Steins;Gate universe. Daru deals with the plights of being a father and having to try and date Suzuha's mother, Mayuri learns to become a mother and even the rounder Moeka Kiryu gets a bit of screen time to help the cast. While there are new characters, including the charismatic "legal loli" Maho Hiyajo and Mayuri's group of cosplaying friends and her daughter Kagarii Shiina, much of the game heavily involves the old cast.
Of all the new characters however, Maho Hiyajo plays the largest role in the story as Kurisu's mentor/best friend in America and the inventor of the A.I. project Amadeus which is an attempt to create a self-thinking artificial intelligence using Kurisu's memories. Playing as an integral part of driving the narrative towards World War III, it serves as a convergence point as countries fight for control of the program in order to build a fully-functioning time machine while challenging the audience to the question of what constitutes humanity without ever feeling overly pretentious.
While Maho does sometimes seem as a superfluous substitute for Kurisu, with even Amadeus trying to cajole her into becoming a love interest for Okabe, it's hard not to root for her after learning about how much Kurisu's death affected her. However, rather than dealing with something as grizzly as having killed Kurisu, like Okabe, her arc revolves mostly around her own inferiority complex when being compared to her best friend as she attempts to relive Kurisu's final moments.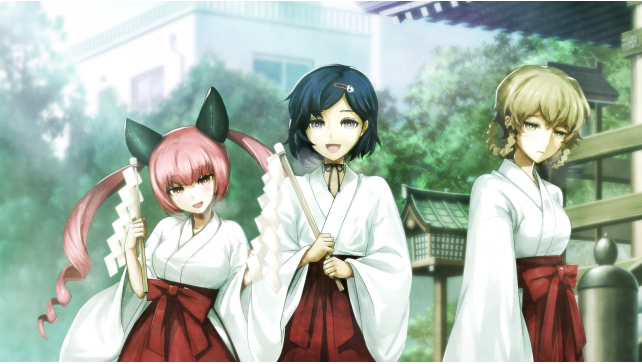 Unfortunately her ending is easily the most disappointing of all six arcs. These arcs are largely split off of two main routes in the visual novel, making the game fairly easy to 100% and get a platinum trophy for. Which route the player ends up on relies mostly on whether or not Okabe picks up calls from Amadeus at various times throughout the game, making it much easier to navigate than Steins;Gate. Still, there are a few missables that may require some backtracking in order to pick up all of the game's in-game tips; which function as a glossary explaining the game's interworld.
Enlivening the game's world is the return of the original artist huke, whose maturity as an artist over the years shows, along with composer Takeshi Abo. Abo manages to create a brand new soundtrack without having to rely too much on recycled tracks from Steins;Gate that fits perfectly into the universe. Although he does use leitmotifs such as the Gate of Steiner; there's enough variation on the soundtrack to make it unique from his previous outing.
That being said, my favorite track would easily have to be "Re-awakening" which is a poignant track that plays at what I personally consider to be the greatest moment of the visual novel; and arguably one of the greatest arcs in visual novel history with the arc rivaling the emotional resonance of Ever 17's Coco route and Little Busters! Refrain arc.
Personally, there's just something extremely powerful about seeing a character such as Rintaro Okabe deciding to redeem themselves after having given up on life that sticks out to me more so than those aforementioned routes from the other two visual novels that I've played; as well written as they are. Perhaps it's just personal preference and causality based on my own life experiences, but it's a fantastic moment that I'll forever remember and reminds me of why I got into this genre in the first place. As when the genre revs up and hits you with a fifty-ton feel train, very few mediums can rival it. After all, you've spent fifty-plus hours with these characters and learning all about their hopes, dreams and despair it's hard not to be moved.
As you can probably tell, I thoroughly enjoyed the visual novel but it's not without its faults either. Mainly, it does not serve as an entry point for people new to the universe as it relies nearly completely on how much the reader enjoyed the previous title and that outside of sending random text messages to other characters, there's little in the way of gameplay. Also another minor gripe is that my save file became corrupt after updating the game with the newest patch on the PlayStation Vita; so heed this warning. I had to skip through all the text in order to recover my progress after being forced to restart, but luckily it only took me a hour or so to get back to my previous point.
However, for fans of the Steins;Gate adventure science series, this visual novel is not a sequel but rather the second half of the original's story that went unseen/unread until now. The ending of the game neatly ties into the end of the original Steins;Gate and adds that much more depth into the ending after seeing how much Okabe had to go through in order to reach Steins Gate. It's well worth the entry fee as a second game and lives up to its predecessor in nearly every way. Not bad for a "sequel" that I didn't realize I needed until now.

---
Pros:
- Explores the Steins;Gate universe more in-depth
- Wonderful new characters and the return of old favorites.
- Tells an untold chapter of the original Steins;Gate.
- Decent localization with only a few grammatical or UI-related errors.
Cons:
- Game-crashing update on the PlayStation Vita.
- Maho's ending was very lackluster.
Disclosure: ~40 hours to platinum the game, played and reviewed using the PlayStation Vita version
Review copy courtesy of the North American publisher, PQube
Last modified on Friday, 12 May 2017 18:05
Latest from Jason Young