Kevin Yen
NIS' Next Game: Trinity Universe PS3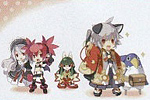 Scans from the latest issue of Famitsu is circulating around the internet of a new multi-company collaboration project, Trinity Universe. Apart from Nippon Ichi Software, Gust and Idea Factory are also working on the game with an estimated release in Japan this August. This game will most likely be released in the United States later though only time will tell if the American audience will be as receptive as the Japanese.
We should have more details for you tomorrow after we come back from NIS America's press event tonight. Scans inside.
Editor's Note: This was not the game announced at the NIS America press event, but rather a new PS3 game titled Last Rebellion.
Latest from Kevin Yen