Super Robot Wars J in English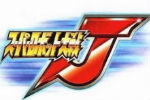 English speaking mecha fans are rejoicing slowly as we have received word that a fan translation group has released a complete English patch online for the Game Boy Advance game, Super Robot Wars J (Super Robot Taisen J).
The main series are strategy role playing games (SRPGs) involving character and mecha cross overs from various anime and video games. Licensing issues have prevented the games from reaching Western shores in English apart from the Original Generation (OG) series which features original characters and mecha.
It's a shame Namco Bandai doesn't release the game stateside.
Please do not discuss or ask where the patch may be found.