May'n New Album and World Tour Announcement
E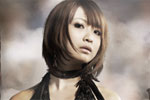 arlier this week, the official homepage for Japanese singer May'n announced she will be releasing her third full album titled Heat on March 21, 2012. The album will include the song "Scarlet Ballet" which was used as the OP (opening theme song) for the anime adaptation of Aria the Scarlet Ammo (Hidan no Aria), "Brain Diver" used in anime Phi Brain: Puzzle of God and a new song, "Heat of the Moment".
Her site also announced that she will be going on a world tour later this year titled "Rock Your Beats" though no countries have been specified yet. We will update as more information is released.
May'n made her first American performance back in 2010 at Anime Expo held in Los Angeles.
Promo videos for some of the songs on album included inside.
Update: additonal information and minor corrections made.
Heat of the Moment
Scarlet Ballet
Brain Diver