Jason Young
JAST USA Press Release: Adult PC Game "School Days HQ" Goes Golden Master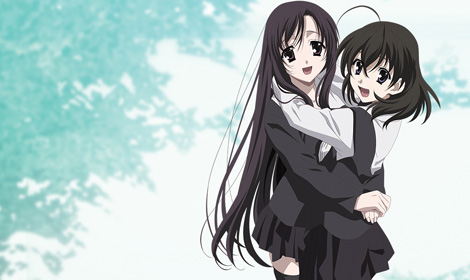 JAST USA, the leading publisher of Japanese PC games in English, has announced the Golden Master status of School Days HQ, a collaboration between JAST Densetsu, Japanese developer 0verflow, and translation group Sekai Project. Golden Master is the final master before printing, putting the release of the game mere weeks away.
School Days HQ is a dramatic story of love and jealousy featuring one of the most famous love triangles in Japanese media. Players assume the role of Itou Makoto, a young man who finds himself caught between two girls: the shy and bookish Katsura Kotonoha, and the playful, energetic Saionji Sekai. If he succumbs to temptation or indecision, he might wind up at one of the game's infamous bad ends, as depicted in the shocking conclusion to the School Days anime series. But if he plays his cards right and comes to terms with his own feelings, he'll find plenty of opportunities for true happiness with Kotonoha, Sekai, or one of three other heroines.
With respect to gameplay, School Days HQ is best described as an "interactive anime." The story is told through animated video sequences with Japanese dialogue and English subtitles. At times, players are presented with choices -- sometimes over 40 in a single playthrough -- that determine what course the story takes. These choices are timed, and waiting for the clock to run out is also a valid choice that can mean the difference between happiness and a broken heart. This makes for a game of incredible complexity, with hundreds of branches and multiple paths to reach over 20 diverse endings.
JAST USA president Peter Payne said, "After a decade and a half of working to grow the market for visual novels, the release of a top-tier game like School Days feels like we've really achieved something great. And since it's important to our customers, we're releasing the game DRM-free, so no one will have to worry about activation."
For the release of School Days HQ, JAST USA has prepared a Japanese-style Collector's Edition that comes in a large box together with an exclusive mousepad and keychain set. Details on the Collector's Edition can be found on the official site, located at
http://schooldays.us/
, which also contains character profiles, screenshots, and more.
School Days HQ is fully uncensored and suitable for adults at least 18 years of age. It is available for preorder now on the JAST USA website, as well as at
JList.com
.