[Eye Up] 1/8 scale Gurren Lagann Figures!!!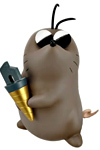 Yes I know, we haven't done any figure news in ages, but I couldn't let this slip by. Eye Up, formerly a figure producer and contractor, announced they would be starting their own figure line. Their first figures shown were a 1/8 scale Kamina with detachable glasses and cape, and a 1/8 scale Yoko with what a appears to be bullet accesories and a detachable Boota from her bosom. Eye Up has recently posted pictures of a their next products, including Simon riding the Lagann! They will also be making various keychain items you can hang off your phone such as one of Boota , and of Darry's stuffed animal. Their last figure annouced appears to be Darry wearing her pilot suit. You can bet that we will be reviewing the full set of figures. Kamina will be released in August 2008 for 8,190 yen, while Yoko will be released a month later in September for the same price.
Read more for more pictures!
1/8 scale Simon Figure
1/8 scale Yoko
Removabe Boota
1/8 scale Darry
1/8 scale Kamina
"Phone Chains"