Osman Numair
GT5 Party: Exotic Cars and Booze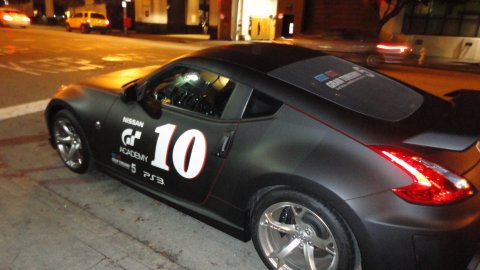 In celebration of Gran Turismo 5 (GT5) coming out this week a pre-launch party was held at the Roe Night Club in San Francisco. It was a fun party featuring DJs and a bars on both floors of this downtown San Francisco night club. Only fifty fans were admitted to mingle with industry personal such as IGN.com editors, and celebrate the launch of the overly delayed and highly anticipated racing game.
The party had six different stations with Gran Turismo wheels, three up stairs and three downstairs. A tournament was held and winners received a collector's edition of GT5 signed by the creator of Gran Turismo, Kazunori Yamauchi. Fans got to compete or just try out the game with the official GT5 wheel accompanied by load club music in the background. Early in the evening, club goers were treated with an early screening of the GT5 opening. Fans viewed racing action with a complementary drink called the GT5, it was a special drink for this occasion, which is a mixture of gin, NOS energy drink, Bombay, and a some tonic. I am not a gin person myself, but it was a refreshing and interesting blend. VIP personal were allowed endless drinks courtesy of IGN.com and the exotic car enthusiast Club Sportiva .
Of course, there were some amazing cars outside the club for people to view and make envious before entering the club thanks to the folks at Club Sportiva. Winners of the "Race Through the Bay Challenge" were announced. The grand prize winner took home a Le Mans Membership to Club Sportiva, which will allow him to access some the worlds most beautiful and exotic cars, not bad for a grand prize.
Please enjoy some of these pictures of this fun and exclusive event: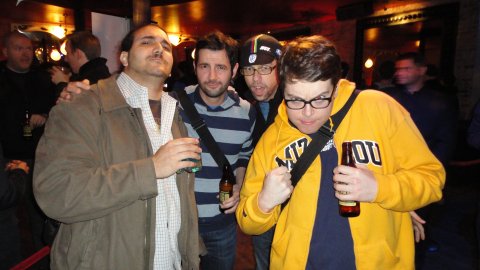 Me with some of the IGN.com editors
left-Osman Numar, Daemon Hatfield, Ryan Geddes, Greg Miller-Right
Latest from Osman Numair