Davis Fan
Glay Concert Report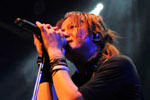 As the clock hit nine, the lights began to dim at the House of Blues Sunset Strip in West Hollywood, . Glay members Teru, Takuro, Hisashi, and Jiro walked onto stage, the crowd erupted into cheers and applause. Without any introduction, the band began to play "Great Vacation" and "Yuuwaku" to cheering fans, who threw up their arms in unison with the song.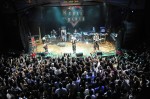 The band took a break to talk with the audience after the first two songs. " House of Blues!" Teru screamed towards the audience. "Los Angeles! How are you?" The crowd erupted with whistles and cheers. After that, Teru took a moment to introduce the four other members of Glay - Jiro on Bass, Hisashi on Guitar, Takuro also on guitar, and finally Teru himself as the vocalist. With each introduction, the fans cheered, some holding up homemade signs or jumping and waving to show their love for the band.
After this short break, the rest of the night was filled with music, playing fan favorites like "Starless Night" and "Highcommunications." They took another break after this song to introduce the remaining people on stage, the keyboardist and drummer. Teru asked some of the audience if his English was good after introductions. The audience cheered, showing Teru that they were happy with his English. Delighted to hear this, he jokingly replied that he can stop learning English then.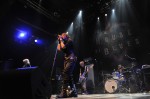 To get a grasp on the love that some audience members had towards Glay, Teru began asking some audience members where they hailed from. While some people came from nearby, others had a longer trip: some traveled to Southern California from as far as Alaska or even Taiwan. Teru laughed after hearing those answers, happy to see the love Glay's fans were showing them. The night had more treats in store, such as the spotlight on Jiro as he did a solo on bass and Teru exchanging verses with the audience.
After playing "Acid Head," the band left the stage and the lights dimmed. Slowly, the crowd began to chant for an encore. As the chants continued, crew members came out and tested the intruments, almost teasing the audience members. After an agonizing wait, Teru, Takuro, Hisashi, and Jiro walked back out to perform an encore. Glay ended the night with "I'm in Love," which featured Teru and Takuro on acoustic guitar. Teru was filled with energy, constantly screaming for the fans to repeat the song's chorus with him during the song. Once the show was over, all the band's main and supporting members lined up, held hands, and bowed to the audience, thanking them for their support.
Photos courtesy of Shunji Kobayashi
Latest from Davis Fan