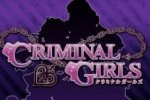 Recent details on Nippon Ichi Software's (NIS) new game,
Criminal Girls,
have been released. Four girls have been introduced: Ran, Yuko, Sako, and Shin. Each girl has a certain personality based on sin they have been committed. In addition, the girls are also voiced by an array of Japanese talents. Gamers in North America probably won't get a chance to hear them, unless NIS decides to add Japanese voiceovers.
Criminal Girls
is turning out to be an interesting take on the RPG genre, combining signature NIS gameplay and an absurd amount of fan service.