Osman Numair
Billy Herrington: Whopping Ass in Japan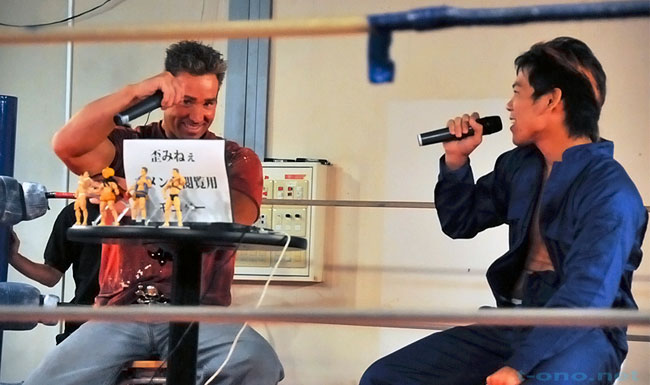 On Aug. 16, 2009, after the last grueling day at Comic Market 76, we were invited to an event host by Dwango, parent company of
the popular video sharing site
Nico Nico Douga, held in Chofu. Chofu is a small town roughly 45 minutes away from Akihabara by train and is one of the older parts of Tokyo. The event was held at a wrestling gym with quite a few people there for a surprise visit by former
American gay porn star, Billy Herrington. Billy Herrington, also known as "Billy" and "Aniki" (Big Brother), has become an internet sensation in Japan, thanks to Nico Nico Douga. There are thousands of fan-made videos that uses many of Herrington's old films to deliberately make misheard words, and wild wrestling videos which have made Billy a social internet celebrity in Japan.
About 100 Nico Nico Douga premium members were selected to attend. They sat on floor mats around a wrestling ring as the event began with a question and answer session with Herrington. Near the end of the questions, Yuichiro Jienotsu Nagashima, a famous K-1 kickboxer in Japan known for cosplaying before matches, challenged Herrington to an exhibition match. Apparently, Herrrington is skilled at wrestling and spankings, which he dealt the latter quite a few times. The cosplay kickboxer became a victim as the match ended when Herrington pinned the cosplay boxer, tossing him over his shoulder, and spanked him to the cheers and delight of the crowd. Shinya Aoki, a famous DREAM fighter, also made an appearance and soon also ended up with a sore bottom.
Eventually, the audience became eager and wanted in on the action, pleading Herrington to spank them. Herrington invited various people up on the ring. The more memorable moments included when the MC asked a portly man to come up on stage. He rolled into the rings like a giant log, then bent down on all fours with his rear in the air waiting for the slap from Billy. The audience and the other wrestlers were all laughing hysterically. There was another moment when a young female audience member was chosen to get her bottom spanked. She was very embarrassed in that stereotypical cute little school girl way. While getting spanked she was asked by Herrington to say "Aniki." While there were many other audience members asked to come up on stage to receive an honorable spanking by Herrington, I found that these two audience members were the highlight of the event. Interestingly, Billy revealed that he was in the process of possibly moving to Japan, though nothing is concrete yet, we will definitely keep you updated. Herrington also expressed his interest in doing promotional ads for companies such as Nike.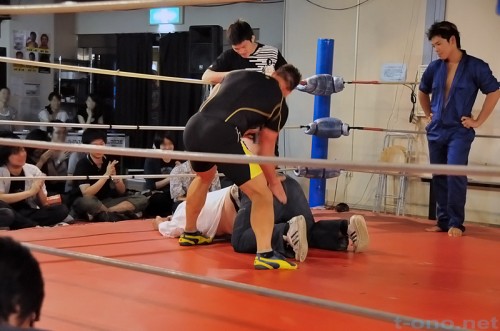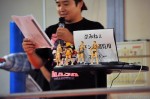 Figure maker Good Smile Company made an appearance showing off their new Figmas of Billy in various costumes. The audience were thrilled to see them and Herrington was really excited about his new figure. One of the Figmas commemorating Herrington's birthday, was sold right after the event. At the very end, the lights went out and a birthday cake was brought out with the audience singing a very heartfelt happy birthday to Billy. After blowing out the candles, he embraced his fans, giving out handshakes and hugs before finally making his exit.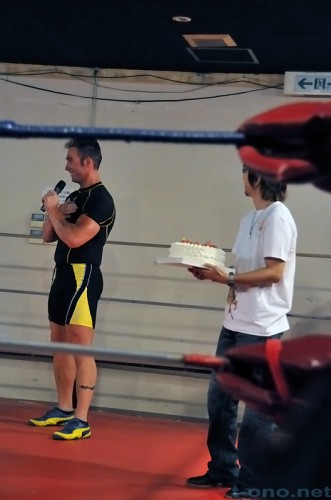 While this was the first Nico Nico Douga event that I went too, it certainly won't be the last. It was really fun to watch, but what I found most entertaining were the audience members' excitement towards the wrestlers on stage, especially Billy Herrington. The fans are what make it possible for the sport of underwear wearing middle aged men, spanking each other while wrestling to be this popular. It may seem weird going to an event like this at first, especially for me because I didn't know what was going on most of the time, but I found myself slowly beginning to enjoy the entertaining aspects more. While this is very different from the Western culture and may seem odd, it's still fun to watch.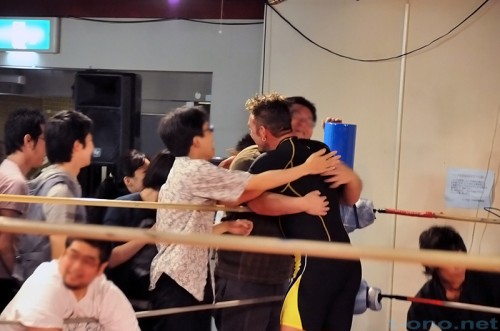 Revised and Edited by: Theodore Mak
Latest from Osman Numair