Davis Fan
Be a Yakuza Ice Cream and Sushi Chef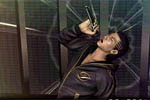 Upcoming Yakuza Playstation Portable spinoff Kurohyou: Ryu ga Gotoku Shinsho will feature nightlife minigames, which include games like UFO catchers or part time jobs. These were common in the series, but part time jobs seem to be a new feature. The part time job minigames will consist of button commands, which will effectively make these a series of rhythm games. Apparently, these will also fund the players' nightlife activities, meaning they can't just slack off and go to the karaoke or massage parlor all the time. List of activities and screenshots after the jump.
Night life activities include:
UFO Catchers
Casinos
Karaoke
Batting Cages
Bowling
Massage Parlors
Part time jobs include:
Ice Cream Server
Burger Chef
Ramen Chef
The game will be released on September 22 in Japan. Considering how tough it was to get Yakuza 3 in the US, fans will have to either sit tight or import this one. Until then, try not to don't insult your local ice cream servers or ramen chefs; they may be yakuza just trying to fund their frequent massage parlor visits.
[Source: 4Gamer.net]
Latest from Davis Fan