Kevin Yen
Gundam SD Capsule Fighter Coming to US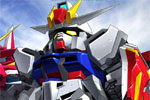 Gundam fans will be excited to hear that SD Gundam Capsule Fighter, a MMOTPS created by Softmax, was announced to be released in the US by an online game publisher, OGPlanet. The game was originally released in Korea during the summer of 2007. At the time, the game was only available to those who held a Korean National ID number. Luckily, my housemate, who happened to be from Korea, was able to sign up for an account and I got to try out the game. Without a doubt, the game was fun and I'll be playing this again when it's released.
The game is played through multiplayer online battles where players have full command of their mobile suit. There are also missions in the game that offers rewards when you complete them. For me, it was all about collecting and trying out new and different mobile suits. One of the great features of this game is that there are many ways of obtaining mobile suits either by renting one for a limited time, using Astros (out of pocket money), spending points (in-game currency) on capsule machines, or by mixing mobile suits.
The variety of mobile suits available in the game is astonishing. They have mobile suits from the old Gundam series such as Universal Century to the more recent ones like Mobile Suit Gundam 00. With over 300 mobile suits available in the game, they are classified into four ranks: S, A, B, and C rank. In addition to ranks, mobile suits are also categorized based on their specialty such as hand-to-hand combat (phase blades, fists), long-range (guns), or multi-role (balanced).
There wasn't a release date given, but a closed beta test is planned to start November 2nd, 2011 for those who are interested. If you like to participate, you would need to register an account with OGPlanet, "like" the SD Gundam Capsule Fighter Facebook page, and submit your email address. But be quick, there's only a limited amount of beta keys given out. For anyone who loves mechs or shooting games, I highly recommend trying out this game. Plus, it's free.
Sign up here: http://sdgo.ogplanet.com/en/teaser.og
Latest from Kevin Yen